Travel and Transportation
Ash Barton Estate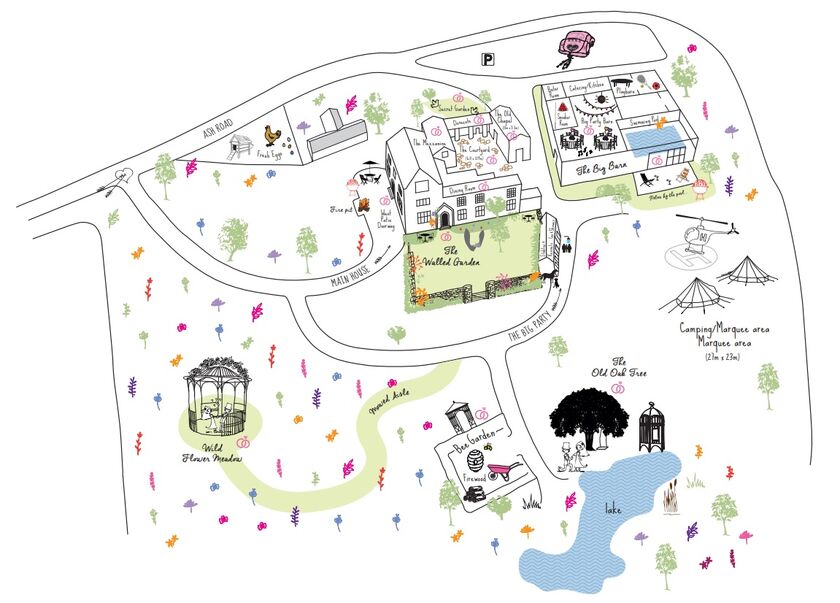 Ash Rd, Braunton EX33 2NP, UK

https://goo.gl/maps/bVcdbdFb5W...

The Ash Barton Estate is only a 3½ hour drive from London via the M4 and M5. And only a 3½ hour drive from Birmingham via the M5. There's a car park located in the grounds that can accommodate up to 80 cars and has easy access to Ash Road.
Barnstaple train station is five miles away, and you can catch a train from here to Exeter St David's and then on to London Paddington or Birmingham New Street. Tiverton Parkway train station is an hour drive but you can catch a fast two-hour train to the Midlands and London from here.
If you fancy a flying visit, Bristol Airport is 92 miles away and Exeter Airport is 60 miles away.
Pop EX33 2NP into Google Maps or Waze, as SatNavs have trouble finding us.
Food and Drink
What's To Eat?
When in the West Country there really is only one option, and that's cooking everything with Cider!
The main meal you will have a choice of:
Brittany style West Country Cider potatoes with award winning, hand-made local pork sausage, served with crusty bread, relishes and slaw!
Aubergine, butternut squash and chickpea curry, served with flatbread, tomato, relishes and raita. Oh it's also vegan friendly (except the raita - definitely don't eat that if you're vegan).
We will have a selection of canapés for the welcome drinks and a range of home baked cakes made by none other then the Bride and Sharon, the Groom's Mother.
For later in the night... we have a secret treat!
(Please get in touch with an allergies or specific requirements)
What's to drink? Whatever you want! It's BYOB!
Our wedding is a big house party, and as such we want to you be able to enjoy it like a big house party so it's BYOB!! No worrying about sneaking a bottle or two in your handbag or stuffing a bottle of champs up your sleeve *cough* Stuart *cough*!
We will be giving out welcome bubbles as well as beer and wine for the main meal. There will be a cash bar stocked with beer and wine which we will be selling at cost, but stocks will be limited so please bring you own as well.
Tea and Coffee will be available in the Manor House at your leisure.
A bed to rest your head for the night or a retreat for the whole weekend?
North Devon is beautiful and the near-by village of Braunton is no exception.
There are a range of BnBs & Hotels in the village, surrounding countryside and beach fronts.
Please see this link for a list of some of the places nearby recommended by the owner's of Ash Barton. You will be a 5 minute drive from Braunton (small village) and a 15 minute drive from Barnstaple (big town) offering a range of B&Bs, holiday cottages and hotels.
Or for something a little bit different...
4m/5m Bell Tent - Onsite Camping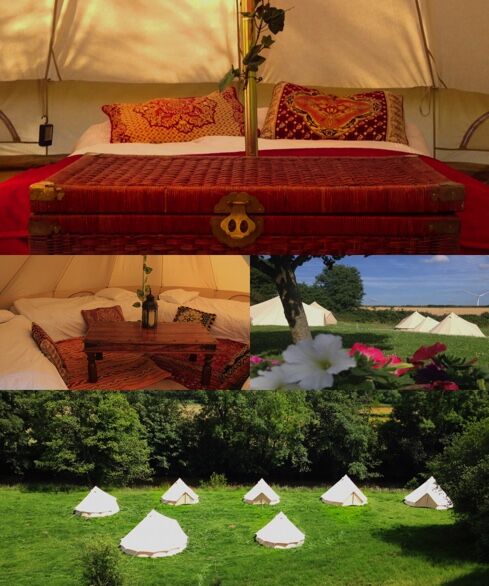 Don't want to leave the party? You can arrange for you to have a Bell Tent to sleep in onsite! We have teamed up with Native Outdoors who can provide luxury Bell Tents + added extras if you wish.
The Bell Tents sleeps up-to 4 comfortably or 5 at a squeeze each. Prices vary depending on how many you want in the tent, the more you share the cheaper it is!
Bedding is included along with, lighting and power for phones, they are waterproof and with a few bodies quickly become quite cosy.
"But what about an underfloor heated shower rooms & toilets?" I hear you say! We have got that covered as well. The converted luxury stables onsite have showers and toilets which are underfloor heated and the kitchen in the Manor House has tea, coffee and breakfast facilities at your constant disposal.
If you want to go for this option, please email Native directly quoting our special reference, they will require a £100. deposit and payment from you before the date! We aren't marking these up, they will be at cost from the supplier. Please note the prices below are totals for each tent size, not per person!
email Mail@nativeoutdoors.co.uk reference MCALPINE060320
1 - 4m Double bed - £185 plus £30 for double bedding. = £215
2 - 4m 3 people - 3 singles - £185 plus £30 for the double and £20 each for single bedding. = £245
3 - 5m 4 people - 4 singles - £225 plus £20 for each single bedding. =£305
4 - 5m 5 people - 5 singles - £225 plus £20 for each single bedding. = £325
If you have your own Bell Tent please feel free to bring it for yourself! Please speak to us if you want to bring your own as we will need to allocate you a pitch.
Gifts
Your presence is present enough
We are delighted that you are able to join us on our special day and your company is what we value the most so we are not expecting any gifts.
If you do want to give us a gift, what we would appreciate the most is a contribution towards our honeymoon. We have a link to our fund here.
Itinerary
Plan for the day and party
12:00 - 12:45 Guest arrival
13:00 - 13:45 Ceremony - if its a nice it will be outside so wrap up warm!
13:45 - 14:45 Welcome Drinks (Stu and Gem go for photos)
14:45 - 15:45 Group Photos and hangs!
15:45 -16:00 Call to Dinner
16:00-17:30 Dinner - We will be showing the first half of the rugby for those who want to watch it.
17:30 Cutting of the cakes and help yourself to dessert!
17:40 Second Half of Rubgy and drinks
18:00 The Bar Opens!
18:30 Speechs
19:00 Ceilidh Band
21:30 Pizza Van!
21:45 - 02:00 DJs
02:00 - 04:00 Free Form Party/Last Man Standing!